Prince Harry and Meghan Markle Engaged!
Hear ye, hear ye—we have a royal announcement: Prince Harry asked Meghan Markle to marry him!
Yes, we Americans tend to get excited about the royal life and all the details, but there's always one detail that draws our attention here at Mullen Bros. Jewelers the most...the royal ring!
We've shared about Pippa Middleton's amazing wedding ring set and what ring Prince Harry might choose to propose to Meghan Markle with...we love all things royal, particularly their jewelry!
And now we know what he chose for his bride-to-be!
The Ring Prince Harry Chose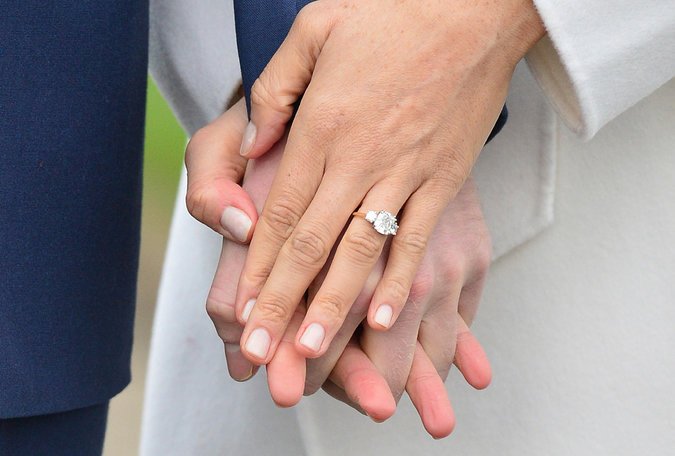 Picture Credit: Dominic Lipinski/Press Association, via Associated Press
And the stunning ring did not disappoint. It is amazing and we love it! This gorgeous engagement ring has something old and something new. The royal couple finally announced their engagement and shared the ring for all the world to see and admire. 
Prince Harry himself designed the ring! (Now we think that is a great way to start an engagement...we can help you do that too if you're thinking of something outside-the-box for your partner!)
The ring has three dazzling diamonds made with a central stone and two others from the collection of the prince's mother, Princess Diana. The ring is yellow gold which is Ms. Markle's favorite!
Cleave and Company made this amazing engagement ring, the official jewelers to Queen Elizabeth II.
We are excited for all the upcoming wedding and festivities. And of course, we look forward to seeing the wedding band. The royal nuptials are planned for this coming spring...who's going to be watching?!?
Our Own Engagement Rings Fit For Royalty
Here are a few of our own engagement rings that we think are fit for royalty...
We're honored that Mullen Bros. Jewelers ranks #1 in overall customer ratings among all jewelry stores in Southeastern Massachusetts and we will continue to take care of our neighbors and friends, one jewel at a time.
---
Leave a comment
Comments will be approved before showing up.